Hyacinths growing in the snow

In my area, the Daffodils pop up as early as January and February. Of course they do not bloom until early March.
I live in Northern Kentucky, where the Dogwoods and Locusts trees bloom through March and April. The Hyacinths are in full bloom, as well.
Sometimes they bloom so early I feel the need to mulch and cover early blooming flowers with cloches.
For my post on Cloches and making your own plant protection, read here:
Cloches plant protection (early planting & extend growing season)
. I remember one year when the Daffodils were growing through the a Winter storm, and I made sure to protect them with plastic bottles and other plastic containers to keep them warm and protected from the snow.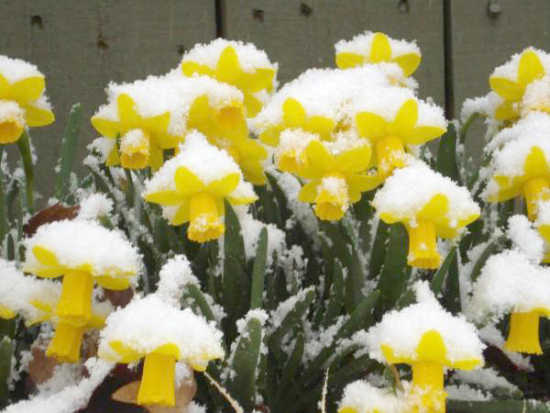 Daffodils withstanding snow and cold

It's nice to see flowers pushing through the snow and begging for Spring weather. Growing early blooming flowers sets the pretext for a beautiful summer. Design your Perennial garden to bloom from Early Spring and transition into different times of the year.

Below is a list of the following Flowers which bloom early in the Spring.













Feel free to look through my Floral photographs of many of the Early blooming flowers, here:
Collection of Floral Photography 2014
. One of the photographs from last year's collection was of the Hyacinths that grew at the end of March and early April, seen below.

Hyacinths from the yard